"I am following Nature without being able to grasp her, I perhaps owe having become a painter to flowers."-Claude Monet
The National Gallery definitely ranks high on my list of the best museums in Washington, DC. In fact, it may be my absolute favorite. I love the huge, winding, stone staircases, the high ceilings of each gallery room, and the arrangement of fountains and gardens. Something about the atmosphere and the feeling of grandeur keeps me coming back time and time again. In a way, it is my own personal escape from the busy world and my own hectic schedule. Therefore, when I heard about the arrival of the exhibit, In the Forest of the Fontainebleau, I was extremely eager to see it. The exhibit displays works by some of my favorite artists, Millet, Monet, and Rousseau.
Although I knew a fair amount about these artists from art history classes and by seeing their works in other mus
eums, the Fontainebleau Forest, located outside of Paris, France, was a relatively knew topic for me. However, at this point in my life especially, anything remotely related to Paris is of great interest to me, as I will be there in less than a week's time. Here is what the exhibit taught me about the Fontainebleau. Since the Middle Ages, and probably before, the forest has been used as grounds for hunting and hiking. From that time on, it has been a popular spot for tourists and Parisians to escape from the hustle and hubbub of the city. The natural landscape is quite remarkable with majestic trees and grandiose rock formations: hence its appeal to nineteenth century artists who began the style known as "plein-air" or "open air," a forerunner of impressionism.
The artists reflect the desire to escape by using elements from nature to create a tranquil, idyllic environment which directly contrasts with the atmosphere of Paris, or any other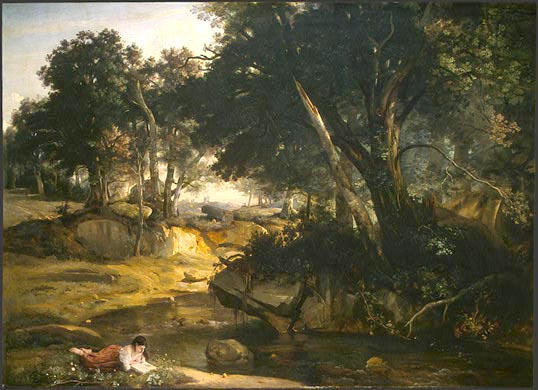 city for that matter. Almost any one who looked at these paintings would see the appeal and want to be part of it themselves. One work in particular had this effect on me, a painting titled
Forest of Fontainebleau
, by Jean-Baptiste-Camille Corot. Upon seeing this piece, I had a strong urge to grab a book and join the girl reading quietly by a forest brook.
I love cities, so I don't often feel this need to escape from the cities, but rather the desire to escape to one. However, this exhibit brought to mind an issue which is slowly coming to the forefront of world politics. That is the problem of pollution which is shared by countries around the globe. Cities, due to high concentrations of people and large amounts of automobile and factory exhaust, are hit especially hard. In Beijing, the problem is so amplified that officials are scrambling to clean up the environment before the summer 2008 Olympic Games. In London, huge taxes are being instituted to discourage commuters from entering the city and bringing with them additional traffic and pollution. Therefore, it is understandable that people would want to flee to a place of "open air" where they would not be suffocated by masses of people and the toxic fumes made by man. It was actually the phrase "open air" which drew my attention to this issue and made me realize how acute the present need to escape really is. While Corot, Millet, Monet, and the others had no way of knowing it, their works and the history and ideas they embody are actually very relevant to modern times.